Travel websites are some of the most under appreciated on the net. Sure, they are a business website and so many people don't think of them for their creativity. But they have a hard job, and that is inspiring the average viewer to choose what they have to offer above anyone else. Which, in the case of travel sites, isn't just a product but a tiny sliver of – literally – the entire world.
You could point to any number of these pages and comment on how beautifully made they are. This is a highly biased list of ones that I really like. I hope  you will like them, too.
There is something so homey about this site. It reminds me of says spent at my grandparents home in the mountains, with that slightly rustic feel. Maybe it is the fabric styled background, or the stationary image of a snow covered cottage. But it is a really simple site that elicits a sense of well being. Plus, it gets the point of what it is and does the moment you click onto the page.
Utah is best known to most tourists as a place for skiing or snowboarding, and with good reason. But that is only the Northern part of the state. The South is completely covered with deserts and national parks, which this site chooses to focus on with their design. People who like an active lifestyle and enjoy outdoors activities like hiking, rock climbing and biking will adore Utah, and if you like beautiful scenery you will love this site.
Belize is quickly becoming one of the hottest destinations in the world. This site makes it look so laid back and wonderful, with that easy feel that comes from a truly simple and unpretentious layout. Everything is easy to navigate, and the colors are interesting and attractive.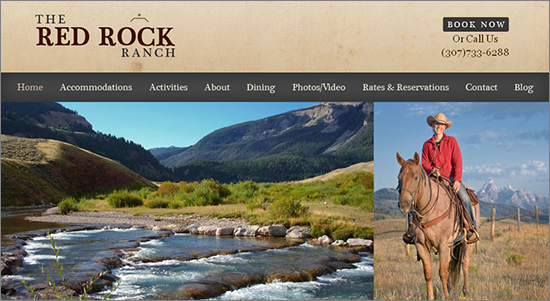 When you have something as specific as a ranch, you want a design that is going to show the visitor the second they go to the page what they are getting. This one does just that, and everything from the slideshow to the background image is perfect.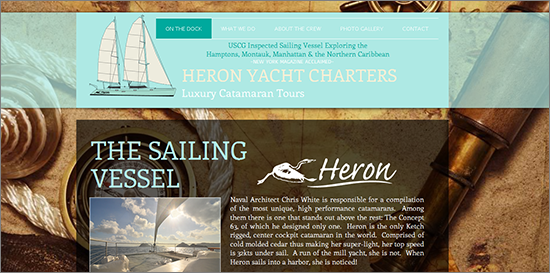 I don't usually like yacht websites because the designs are so predictable. This one managed to do something different, and I would say it is the most dynamic one of this list. It has plenty of maritime imagery while avoiding the usual design choice of too many sailboats. The colors are a surprising choice, mixing browns and blues. All in all, it is a great way to show off a charter service.
The interesting thing about web design is that it inspires and motivates (especially when it comes to traveling and / or lifestyle) and the above examples are perfect examples of both! I feel like visiting one of these places right now!
Do you know of any good travel websites that have beautiful designs? I bet you do. Share them in the comments!
By Annie Wallace.
Annie is the social media strategist for Dobovo, the travel site that serves Eastern European travelers going to Kiev, Odessa or Lviv.